PREMIER LIMOUSINE SERVICE IN JACKSONVILLE, Florida
Travel in luxury and style with our limousine service in Jacksonville, Florida. As the people behind BKCK Transportation Services, we do everything we can to ensure your trip with us is one of comfort and ease. When you choose our limo or town car transportation with us, we make sure that your trip is relaxing and enjoyable; all you have to do is sit back and enjoy the ride.
In business since 2009, we have grown each and every year due to our determination to go above and beyond for our customers. Whether you hire us to take you to beautiful and entertaining venues in Florida or Georgia, pick you up at the airport, or take your wedding party to and from the church and reception hall, our drivers provide courteous service and safe destination transportation. Call us to schedule service.
You have a vacation coming up. You've already chosen the destination, the beautiful beaches of Jacksonville and St. Augustine. We believe you owe it to yourself to celebrate in style. Our luxury travel company in Jacksonville, Florida, is here to facilitate this for you.
Make a reservation with us to rent one of our well-appointed vehicles. Indulge yourself, loved ones, and closest friends with transportation in a Lincoln Town Car, super-stretch Ford Expedition, or one of our spacious motor coaches.
All you need to do is relax, enjoy wine or champagne, and the company of people who bring you joy. We do all the driving for you. Our courteous chauffeurs treat you as special and valued guests as you travel to your destination. Perhaps a restaurant with a view of the Atlantic Ocean or one with outside seating on the Intracoastal Waterway. And we'll be waiting for you when you're ready to leave. You don't have to worry about having a designated driver. That's what our chauffeurs are for.
Whether shopping in St. Augustine's historic district or enjoying the nightlife in downtown Jacksonville, you don't have to worry about directions or traffic. Our chauffeurs deliver you safely to your destination. Make your vacation memorable with luxury transportation.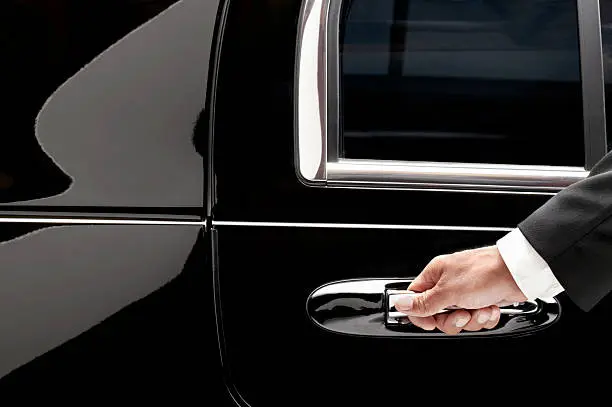 WELL-MAINTAINED FLEET OF

SPACIOUS VEHICLES
Our transportation company has an entire fleet of vehicles, all immaculately clean and in excellent working order, to take you around town, to an area attraction, or to and from your hotel and office while you are working in the area. We only drive you in late-model vehicles, fully equipped with GPS and frequently checked for safety and performance. And, of course, no smoking is allowed in any of the vehicles in our fleet.
Choose from a town car, luxury SUV, stretch limo, or motor coach for ease and convenience of travel for work, pleasure, or celebration. We're available to take you where you want to go seven days a week, and we provide 24/7 service for those who wish to stay out late.
SAFE & SMOOTH TRAVEL FOR YOU
There is no need for you to worry about the training, professionalism, or background of our drivers. Rest assured that we question them thoroughly with full background checks, as well as clearances from the FBI and Homeland Security. They also obey all traffic laws and drive efficiently and cautiously. Our company has commercial insurance, is licensed as a limo service, and has the proper registrations from the city and state.
Now that, we take care of all the little details for you, so you do not have to waste your time on them. It is our goal to give you leisure time to use as you choose, while we provide transportation that takes you wherever you need to go. We believe this is one of the reasons we're one of the top-rated limo services in our area.
Contact us in Jacksonville, Florida, today for limousine services throughout the area. We proudly serve customers in parts of Florida and Southeast Georgia.